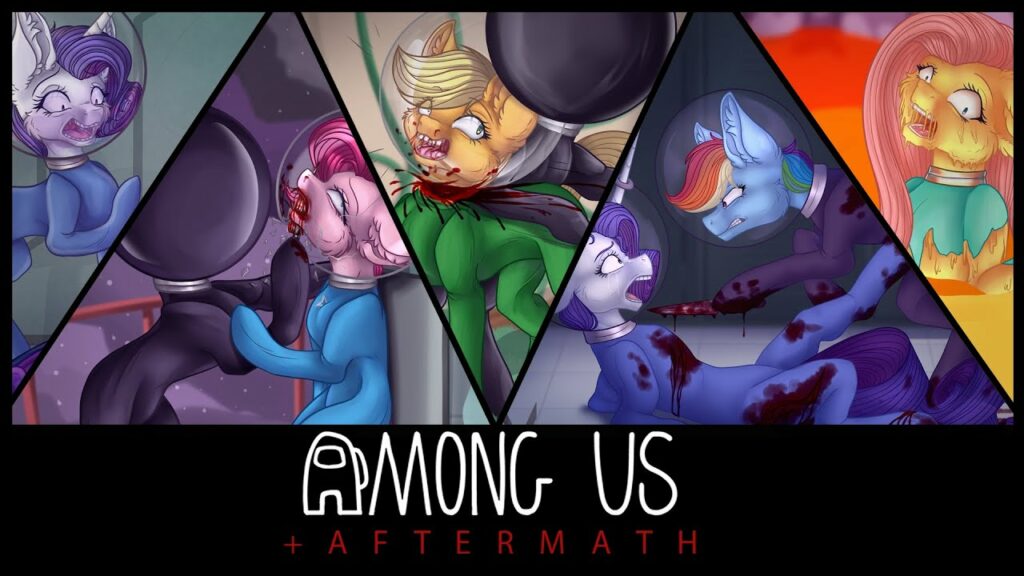 MY LITTLE PONY AMONG US GAME + AFTERMATH | GORECONTENT | Mlp Speedpaint
ManeBlue
Views: 96121
Like: 3598
The game begins, while AppleJack leaves for the O2 to do his mission, she meets someone who " BOOM " kills her directly, she did not have time to see who was the impostor, a few minutes later FlutterShy who passed by sees the body and reports it to the rest of the group, after a few minutes of conversation nothing emerges from this conversation.
While it is panic on the ship because of sabotage, everyone spins fixed it, it is instantly that Pinkie who was going to put the seismic stabilizer back on, crosses a pony who "PAF" instantly kills her , shortly after it is RainbowDash who sees and reports the body to the rest of the team.
As everyone wonders who the impostor is and no one is kicked out during the talks, it all goes on and Rarity who was going to do her missions screamed with all her might when she found Twilight's body in the arms room, she chatted and accused FlutterShy because she had seen her shortly before.
As Rarity yelled at FlutterShy accusing her, Flutter insisted that it wasn't her and that she had just finished her mission and that it would be impossible for her to kill her friends and have to lie afterwards, Rainbow she didn't know what to say and do, she was watching this scene in front of her. Rarity decided to vote against FlutterShy and RainbowDash followed the vote, FlutterShy was ejected.
Rainbow Dash was the impostor and for those who wondered about her wings, she taped them so that they are as flat as possible ;), I really hope you liked 😀
-*-*.*-*.*-*.*-*.*-*-.ManeBlue.-*-*.*-*.*-*.*-*.*-*.-
DeviantArt:
Instagram:
Commission:
Reference Sheet:
-*-*.*-*.*-*.*-*.*-*-*-*.*-*.*-*.*-*.*-*.*-*.*-*.*-*.*-*.-
DrawingProgram: PaintToolSai.
Tablet Xp-Pen 13Hd Pro.
Recording: Open Broadcaster Software.
Video Editing: VegasPro 17.
Inspiration: HyannaNatsu-EmalaJiss-MianMian-LuvYa-BlitsAzalisDash-ClayPony.
*-* Thank You For Watching *-*