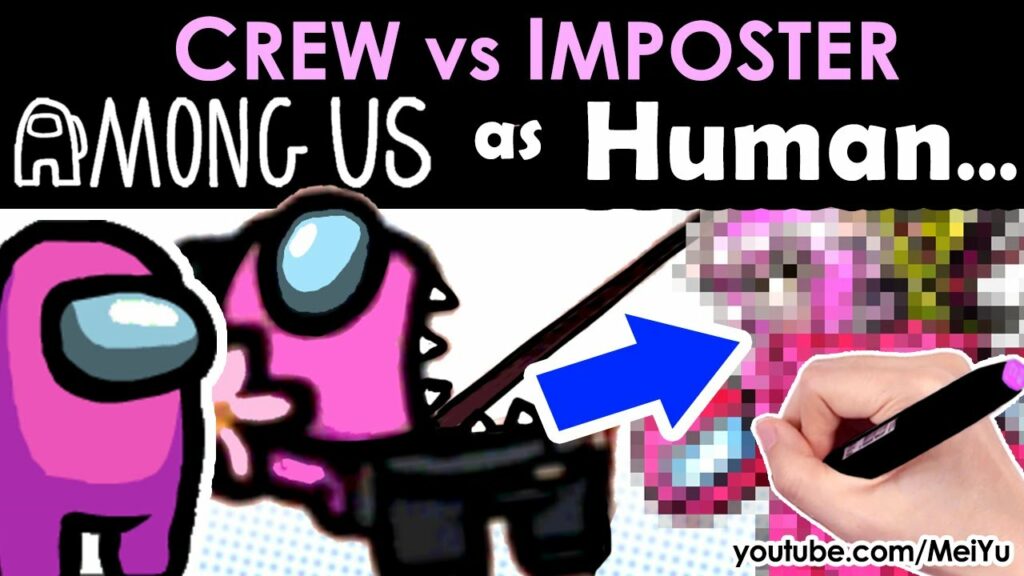 CREWMATE vs IMPOSTER Among Us Reimagined Human Art Challenge | Semi-Realistic Art Style | Mei Yu
Mei Yu
Views: 100799
Like: 2740
I do an Among Us reimagine as human art challenge in today's Fun Friday! Watch me draw Pink from Among Us as a human and as a monster in a semi-realistic art style in this fun art video.
Get inspired with these creative drawings – create your own OCs and original characters for your anime, manga, cartoon, comic, designs, fashion designs, and art illustrations! More art challenge ideas, art inspiration, drawing challenge ideas, how to draw online art tutorials, and character fusion mashups on my channel! Makes for great online art classes and drawing lessons to watch and learn from home.
Subscribe:
———————
🌈 📚 🖍️ Mei Yu's Book Store 🌈 📚 🖍️
Own or Gift Mei Yu's Coloring Books & How to Draw eBooks + the art supplies she uses!
———————-
🌈🖍️ Get Mei Yu's FIRST COLORING BOOK! 🌈🖍️
———————
❤️ Learn & improve your art from Mei Yu's eBooks ❤️
(Multi-series for all skill levels – learn drawing skills to create your own OCs)
✏️ iOS:
✏️ Kindle:
Kindle Series:
📘 Draw 1 in 20 (Master the Basics Fast + Easy)
📘 How to Draw Reimagined Characters (Learn to Reimagine Your Favorite Characters as Different Things)
📘 Fun2draw (Cute, Easy Kawaii Drawings for All Skill Levels 1, 2, 3)
✏️ Android:
You can download the Kindle app from the Play Store to get my eBooks from Amazon on your Android devices.
———————
❤️ Learn & improve your art from Mei Yu's Apps ❤️
1) Draw 50 Anime Manga Lessons App (multiple collections):
iOS:
2) All of Mei Yu's Apps and Games:
iOS:
Android:
———————
❤️ Own or gift Mei Yu's art-featured products! ❤️
1) Mei Yu's Teespring Store:
2) Mei Yu's Zazzle Store:
———————
* Watch more videos here! *
1) MeiYuArt Channel for how to draw, coloring, & art videos:
2) Puddi Panda Channel for cute, funny animated cartoons:
———————
Music:
Classic Horror – Madness Paranoia by Kevin MacLeod is licensed under a Creative Commons Attribution license ()
Source:
Artist:
Music from the YouTube Audio Library
———————
Some of the links above are affiliate links. As an Amazon associate, I earn from qualifying purchases. If you make a purchase through them, I will earn a small commission at no additional cost to you.
#artchallenge #meiyu #drawingchallenge