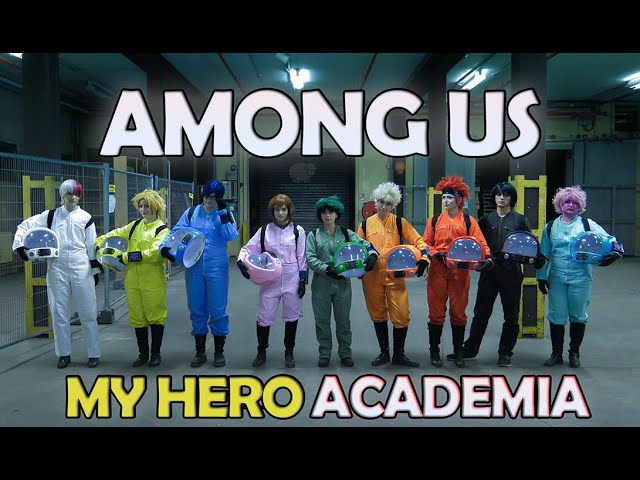 WARSHEEP Studio
Views: 4603348
Like: 247774
/! Subtitle available in ENGLISH, FRENCH, SPANISH and RUSSIA
Here's to another Halloween video! This year we decided to dive into the world of Among Us with our favourite Dekusquad and Bakusquad. Who's the impostor? Will the crew manage to survive? All the answers are in this video! Hope you will enjoy it!
Please feel free to comment, tell us your opinion, and TYSM for your support!
Thank you for watching ♥
– –
TWITTER :
INSTAGRAM :
You can also support us on PATREON :
Or KO-FI :
– –
► BAKUGOU & DABI = AX Mayhem
INSTAGRAM →
TWITTER →
FACEBOOK →
► TODOROKI & SHIGARAKI = Black Deamon – Edo
INSTAGRAM →
TWITTER →
► MIDORIYA = Titaina
INSTAGRAM →
TWITTER →
FACEBOOK →
► KIRISHIMA = Seto
INSTAGRAM →
FACEBOOK →
► DENKI & TOGA = Tara
INSTAGRAM →
► MINA = Vivi
INSTAGRAM →
FACEBOOK →
► SERO = Nianar
INSTAGRAM →
► IIDA = Shigure
INSTAGRAM →
FACEBOOK →
► OCHAKO = Relo
► Aizawa = Mimi
INSTAGRAM →
FACEBOOK →
– –
Huge thank you to our amazing friends for taking part in this project! Love ♥
– –
We do not claim any rights neither to the music nor to the characters used.
The cosplays are inspired both by the manga My Hero Academia (by Kohei Horikoshi, published in Weekly Shonen Jump, SHUEISHA Inc., 2014, Japan) and the video game Among Us (developed and published by Innersloth, composed of programmer and composer Forest W., designer and artist Marcus B. and artist Amy L., June 2018, Washington, USA) all rights reserved. Said cosplays were made by Warsheep Studio.
The screen captures of the game were taken by Warsheep Studio.
Consider supporting the creators of the game, visit their website and download their game directly there, or on the app stores or on Steam.
Thanks to PADAF for welcoming us.
Written & directed by Black Deamon – Edo and Titaina
Produced by Warsheep Studio
Camera operated by GIV – LAN
GIV – LAN ( )
Facebook :
Twitter :
YouTube :
Instagram :
Huge thanks to Titaina for her help during the entire production!! Whether it was on set, or during the pre-production phase or after during the post-production phase your help was very precious. Special thanks to Seto for their enthusiastic help with the script, and all the pre-production phase, notably with all the materials needed for the props as well as building the props. Thank you to Shigure and Kam for their help with building and painting props as well! Thank you Alexandre for your help, your patience and your flexibility toward this project. Thanks to you we were able to experiment a new way of creating.
Thank you to all our friends for being actors on this project and on so many others.
SET ASSISTANCE and sometimes body doubles, TYSM for your help!
► Elsa
► Rebk_y
► LadyDee
► Vivi
CAPTIONS:
ENG-FR by Mayhem
ESP by Kotaruuu
RU by Sophia
DISCLAIMER:
We do NOT take credits for the music. All the credit goes to the original creators of the music used in this video. The authors don't endorse us, we are a private Youtube channel.
They are protected under the Creative Commons Licence registration.
Musics used: Unfortunately we do not have enough space in the YouTube description. Please refer to the goodle doc for all the information. ()
Kevin MacLeod
– Quinn's song: First night
– Sneaky Snitch
– Amazing Plan
– Investigation
– Hitman
– The Builder
– Scheming Weasel
– Unrelenting
– Sneaky Adventure
Umbrtone
– Yummy Flavor
Rickair Production
– The Dusty Attic
Redafs Music
– Creepy Tricky
– Lazy Dally Comedy
Cinematic Music
– Kampala
Lionel Schimitt
– A Nightmare in Blood