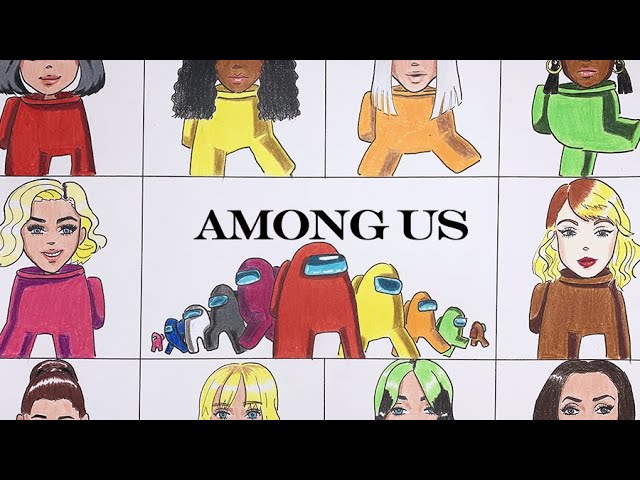 AMONG US Fanart II If the Crew were CELEBRITIES [UOJ Channel]
UOJArt
Views: 909
Like: 12
Among Us crew faces revealed as celebrities. Some of them must be the imposters!
❤️Please support my channel by click the SUBSCRIBE button.
AND please don't forget to click the bell🔔 beside the subscribe so that you guys can see more of my new contents.
Among Us phi hành đoàn tiết lộ gương mặt thật. Họ là những nhân vật nổi tiếng. Trong số họ chắc chắn có kẻ giả mạo.
❤️Xin các bạn hãy ủng hộ kênh của mình bằng cách nhấn vào nút SUBSCRIBE ( ĐĂNG KÝ) bên dưới.
Và xin đừng quên nhấn vào chuông🔔 bên cạnh chữ đăng ký để các bạn có thể xem thêm nhiều nội dung mới của mình nhé.
Record tools:
Iphone MS Max
Phone Holder
Art supplies used in video:
Pigment Liner Black Ink Pens (Set of 9)
Faber-Castell Polychromos 120 Colored Pencils
2-hole Pencil Sharpener Magnesium Alloy Wedge
"As an Amazon Associate I earn from qualifying purchases."
📢
LIKE my FACEBOOK Fanpage :
Follow me on INSTAGRAM:
Buy Me a Coffee:
Track: Control by High Rule
Creative Commons — Attribution 3.0 Unported — CC BY 3.0
Free Download / Stream:
Music promoted by Audio Library
Track: Damn Shame (Ft. Lincoln) by NIMBVS
Creative Commons — Attribution 3.0 Unported — CC BY 3.0
Free Download / Stream:
Music promoted by Audio Library
Track: Broke — Soyb [Audio Library Release]
Music provided by Audio Library Plus
Watch:
Free Download / Stream:
Track: Crystal Eyes — Airixis [Audio Library Release]
Music provided by Audio Library Plus
Watch:
Free Download / Stream:
Track: DON'T YOU — VOLTE/FACE [Audio Library Release]
Music provided by Audio Library Plus
Watch:
Free Download / Stream: