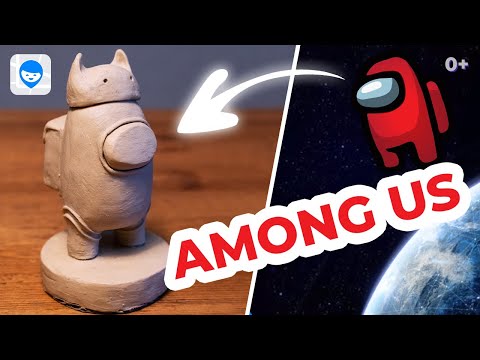 How To Make Among Us Characters With Clay | Among Us Fan Art
PINGO
Views: 1128
Like: 4
How To Make Among Us Characters With Clay | Among Us Fan Art
Hello, in this video I am going to show you how to make Among Us characters figurine out of clay.
0:00 Intro
0:42 List of materials needed for this craft
1:02 Start by creating a wire frame
1:54 Prepare your clay
2:13 Attach the frame to the stand using clay
3:11 Let's make legs for our Among Us figure
3:30 Sculpting the body of our Among Us figure
4:15 Let's start working on the side of our Among Us figure
5:57 Let's start sculpting the backpack
6:31 Let's make and attach the visor
6:58 Adjust the curves of the character using your tools
8:54 Add a small frame around the visor
9:26 Add a frame to the backpack
10:27 Finishing the legs
🔷 𝐌𝐚𝐭𝐞𝐫𝐢𝐚𝐥𝐬 𝐧𝐞𝐞𝐝𝐞𝐝 𝐟𝐨𝐫 𝐭𝐡𝐢𝐬 𝐜𝐫𝐚𝐟𝐭:
– 0.5 kilograms or one pound of sculpting clay
– A print out of your character with two different angles
– Wire
– Sculpting tools
– Scissors
– Ruler
🔷 𝗢𝘂𝗿 𝗼𝘁𝗵𝗲𝗿 𝘃𝗶𝗱𝗲𝗼𝘀:
🎥 Learn to SCULPT your FAVORITE CHARACTERS from plasticine:
🎥 Minecraft sword DIY: Learn how to make a Minecraft sword using cardboard
🎥 How to draw Huggy Wuggy: DIY crafts – Poppy Playtime Character – Huggy Wuggy
🔷 𝗖𝗵𝗲𝗰𝗸 𝗼𝘂𝘁 𝘁𝗵𝗲 𝗣𝗶𝗻𝗴𝗼 𝗮𝗽𝗽 𝗵𝗲𝗿𝗲 𝗳𝗼𝗿 𝗺𝗼𝗿𝗲 𝘄𝗼𝗿𝗸𝘀𝗵𝗼𝗽𝘀
If you want more videos/DIY master classes download our app – Pingo from PlayMarket. We have a big DIY collection (drawing, sculpturing, appliques and other) there. Don't forget to give our videos thumbs up and subscribe to our PINGO channel!
► 𝗣𝗶𝗻𝗴𝗼 𝗮𝗽𝗽 𝗹𝗶𝗻𝗸:
► 𝗦𝗨𝗕𝗦𝗖𝗥𝗜𝗕𝗘: 𝗣𝗶𝗻𝗴𝗼 𝗖𝗵𝗮𝗻𝗻𝗲𝗹 𝗟𝗶𝗻𝗸:
#amonguscharaters #amongusfanart #amonguscharactersfanart #howtomakeamonguscharacterswithclay #howtomakeamonguscharacter #makingamonguscharaters #amongustutorial #amonguspolymerclaytutorial #amongusclay #amongus #amongusallkill #polymerclaytutorial #amongus2 #polymerclay #pingo #diycrafts #diyprojects #diycraft2022 #newdiycraftideas2022 #craftsforkids #clay #tutorial #cardboardcrafts